As part of the Unified Community Platform project, your wiki will be migrated to the new platform in the next few weeks. Read more here.
The Metronomicon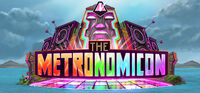 The Metronomicon is a game being created and developed by Puuba, published by Akupara Games for PC and consoles. It was released on September 29, 2016 for PC.
Packing in a fully-fledged story mode with a colourful cast of musically-empowered heroes and villains, The Metronomicon sees you take control of a party of eight newly graduated masters of the "rhythmic combat arts" to wage musical warfare against a multitude of dance-mongering fiends. By switching between four concurrent hero-controlled tracks on-the-fly, you'll select and activate a wide array of abilities, buffs and nukes, with your performance and timing all-important in ensuring the effectiveness of your moves. In the RPG spirit, you'll need to improve your characters' stats, hunt down powerful equipment, and combine a multitude of newly-learned abilities – switching between tanking, healing, buffing, and damage-dealing classes as required in real time.
The Metronomicon features a fantastic, fully-licensed soundtrack featuring some of the hottest electronic, synthwave, chiptune and indie artists, including an exclusive track from Jimmy Urine of Mindless Self Indulgence, an unreleased track from Shiny Toy Guns, along with tracks from YACHT, Perturbator, J-Punch, Dj CUTMAN, and many, many more. As much a soundscape as it is a soundtrack, the music behind The Metronomicon is set to be every bit as varied and exciting as the gameplay itself.
Unique Rhythm RPG – slay fearsome beasts to an even fiercer beat
An epic quest - A wide range of characters, with locations ranging from a medieval party yacht to a rockstar-haunted castle – and many more!
A soundtrack like no other – a powerful, ear-shattering mix of electronic and indie music featuring renowned artists such as Jimmy Urine of Mindless Self Indulgence
Progress - improve your characters' stats, hunt down powerful equipment, and combine a multitude of newly-learned abilities – switching between tanking, healing, buffing, and damage-dealing classes
Replayability – freeplay mode, ranked side quests, and a devilish arena enable you to revisit the game's awesome soundtrack at your own pace, with different gameplay options and character choices available
OS: Windows 7, 8.1, 10
Processor: Intel Core i3 or equivalent
Memory: 2 GB RAM
Graphics: 1GB, OpenGL 1.5+
Storage: 2500 MB available space
OS: Intel-based Mac running Mac OS X 10.7.3 (Lion) or later
Processor: Intel Core i3 or equivalent
Graphics: 1GB, OpenGL 1.5+
Storage: 2500 MB available space